Over two weekends in February, Charterhouse sold over half a million pounds of classic & vintage cars and motorcycles.
"We had some fabulous entries across from the board in both the car auction and the motorcycle auction. With strong bidding across both sections this resulted in sales of over £500,000." Commented Matthew Whitney. "Viewing days and auction days for both sales were very busy, as were internet enquiries and bids came in from not only across the UK, but also America, Germany, Holland and Germany to name a few."
Top lot in the car auction was a 1951 Jaguar XK120 roadster. From long term ownership – it was bought by the vendor as a 19 year old student studying architecture for £180 in 1969, this classy Jaguar from Devon sold for just under £77,000.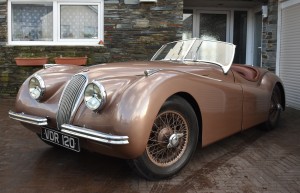 In the two auctions, there was a great selection of cars and motorcycles. With entries from across the UK, and even a small collection of Harley-Davidson motorcycles delivered to Charterhouse from a collector in France, there were concours winners, daily runabouts, restoration projects and barn stored basket cases.
In the motorcycle auction, top honours went to a 1940 Indian Chief. Sold for just under £28,000, it travelled off to a collector in Germany. One of the more modern bikes in the sale was a 1983 Ducati Darmah 900. Entered into the auction from a client in Devon, it sold for just over £10,000. Coming from a Somerset deceased estate, a barn stored 1935 Cotton JAP 25J, which had its rear stand pulled up with binder twine, it attracted strong bidding and the new owner parted with a few pounds shy of £8,000 to take ownership which was twice its estimate.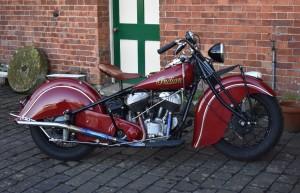 In amongst the classic cars, a 1953 Allard Palm Beach car, which was dismantled, sold for just over £9,500. Also requiring restoration were a 1947 Morgan 4/4 which sold for just over £9,000 and a 1983 Minivan, one a common sight on the road but now getting hard to find, sold for over £6,500 or double its pre-sale estimate.
However, if tinkering about with cars is not your thing, then a 1979 MG Midget 1500 sold for over £7,300. Very strong money for a rubber bumper Midget, it had covered less than 20,000 miles from new and this reflected its condition and selling price.
Charterhouse are now accepting entries for their next specialist auctions of classic & vintage cars on 11th  April and their classic & vintage motorcycle auction on 2nd May. For further information regarding these auctions or to enter a car or motorcycle, please contact Matthew Whitney at Charterhouse in Sherborne on 01935 812277 or email images for valuation at mw@charterhouse-auction.com